Features that make banknotes more difficult to copy have always been part of their design. Take a look at these examples of counterfeit notes from the past. We've included some novelty imitations that also broke the rules.
1797
Counterfeit banknote
In 1797, gold shortages caused by the French Revolutionary Wars (1792–1807) led the Bank of England to rush to issue £1 and £2 banknotes.
Counterfeiting surged as counterfeiters took advantage of people's unfamiliarity with the new notes and their poor quality.
This printed counterfeit £1 banknote was seized by Bank of England clerks and stamped with the word 'forged'.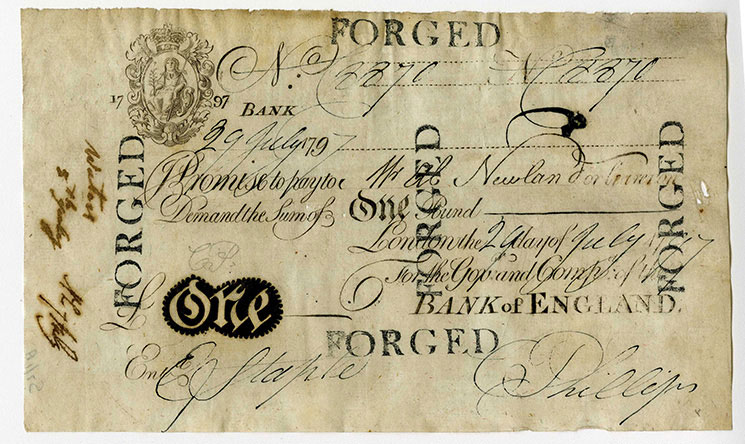 1809
Counterfeit banknote
Most counterfeiters were engravers but it was also possible to create counterfeits by hand.
This hand-drawn counterfeit £2 banknote was produced by a French prisoner of war, held in Chatham, Kent. Many thousands of French prisoners of war were held in England during the Napoleonic Wars (1803–1815).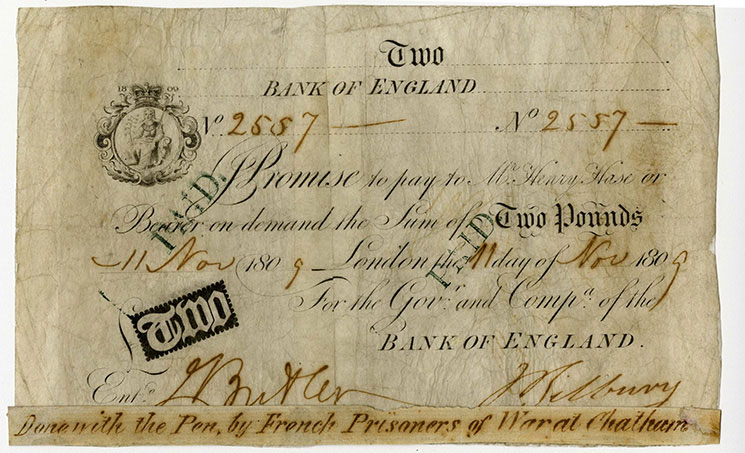 1819
Bank Restriction Note
Between 1797 and 1821 more than 300 people were hanged for counterfeiting.
Designed by artist George Cruikshank (1792–1878) and published by William Hone (1780–1842), this imitation banknote highlights the harshness of the anti-forgery laws. The Chief Cashier's signature has been replaced by the infamous former public executioner Jack Ketch (d.1686).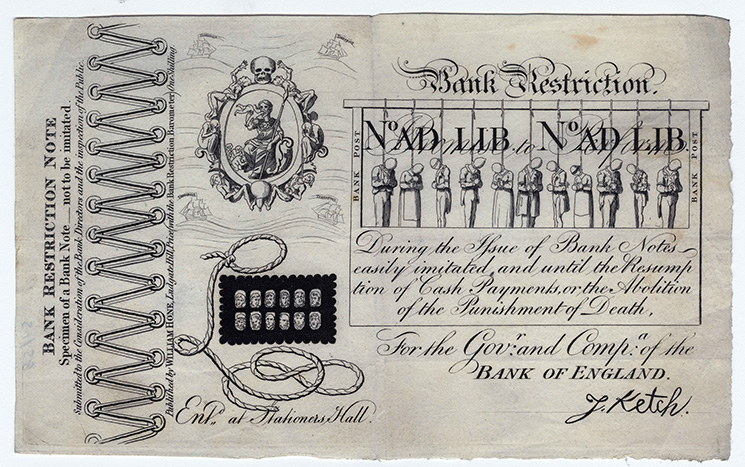 1834
Imitation banknote from 'Bank of Elegance'
Some imitation banknotes were designed as advertisements.
This one was made to promote a barber, who promises to 'Pay on Demand the sum of fifty pounds if I do not cut any Lady or Gentleman's Hair in the first Style of Fashion'.
Other imitations were intended to deceive and, for this reason, novelty versions of banknotes were illegal for many years.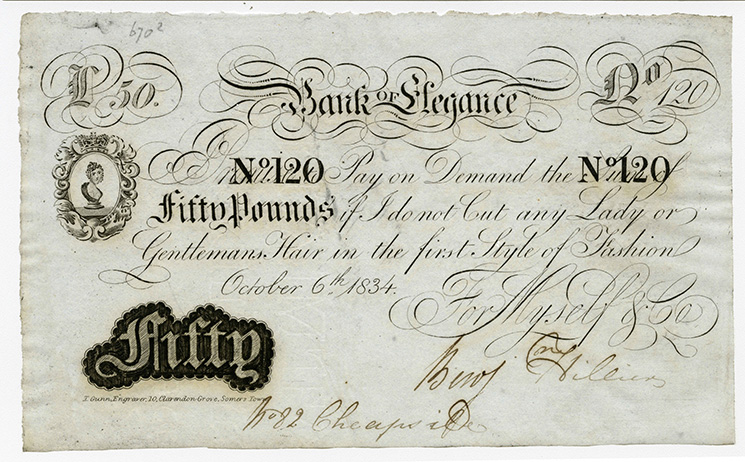 1890
Altered banknote
The denomination, or value, of this £5 banknote has been altered to £50.
The note was discovered when it was used to pay for a cow at country fair in Yorkshire.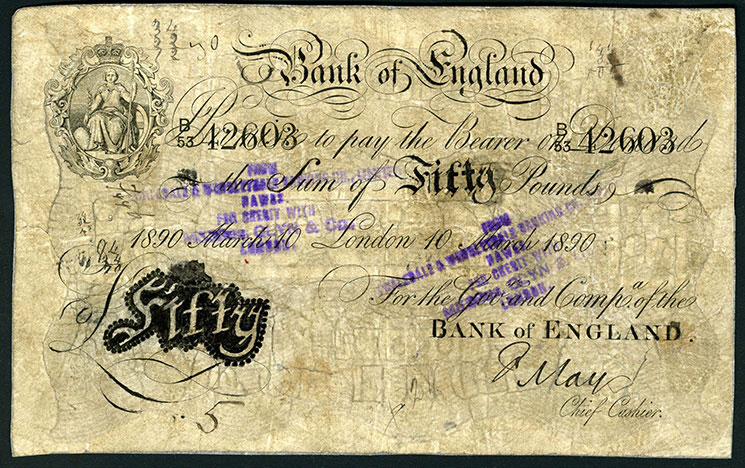 1936
Operation Bernhard counterfeit banknote
Operation Bernhard was a Nazi plot to destabilise the pound by releasing millions of counterfeit banknotes into circulation in the UK.
The notes, including this counterfeit £5, were made by prisoners of war in a Nazi concentration camp. The notes were accurate counterfeits and the Bank of England withdrew all notes above £5 as a precaution.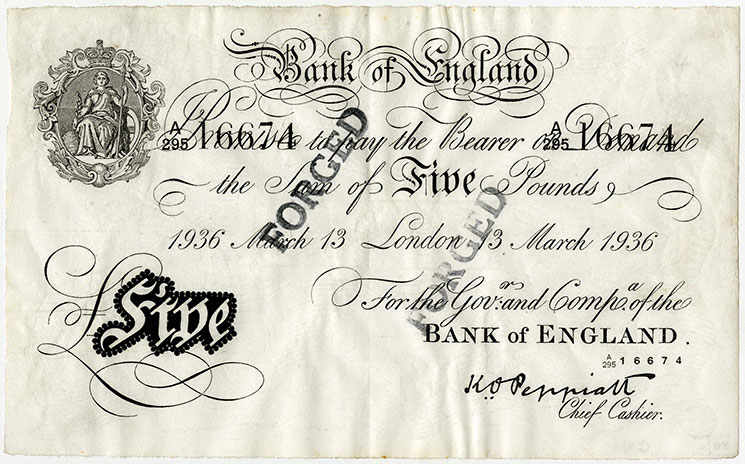 c. 1955
Stage money
Theatrical prop money is often used onstage in productions.
This imitation banknote, produced by a theatrical property maker based in Panton Street, London, is intended to represent a blue £5 Series B banknote. It was surrendered to the Bank of England in 1958.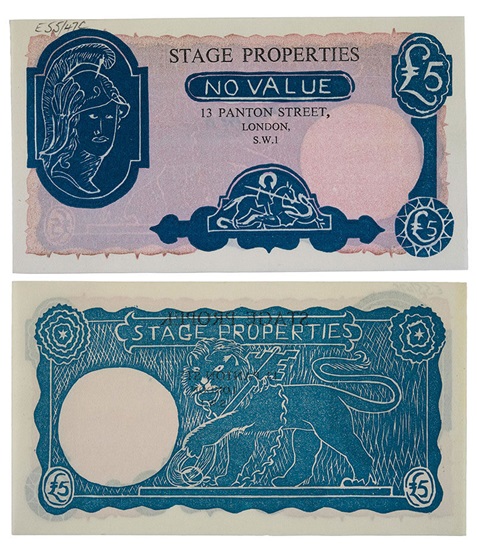 1971 - 1991
Altered banknote
The denomination, or value, of this £5 Series D banknote has been altered to £50. The counterfeiter added zeros to the number block in the top right and bottom left and altered the inscription from 'FIVE POUNDS' to 'FIFTY POUNDS'.
The £50 banknote at this time featured former Governor of the Bank of England, Sir John Houblon (1632–1712). This was unlikely to have been a convincing counterfeit.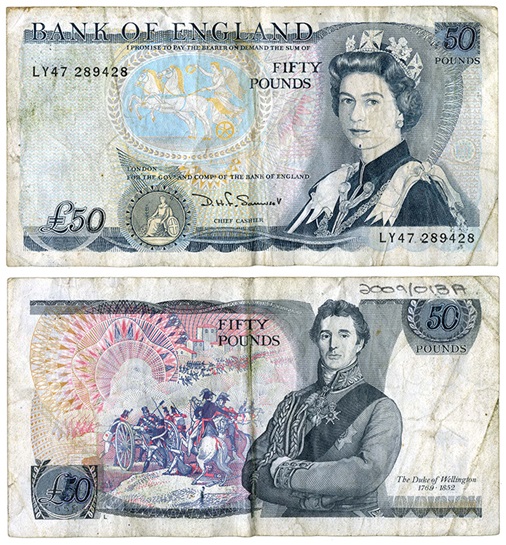 This page was last updated 17 February 2023
Give your feedback