Blog
Jennifer Adam, Curator of the Bank of England Museum
To mark International Beer Day (celebrated on the first Friday in August), I thought it would be a perfect opportunity to look at some items in our collections with a beer-y interesting history.
You may have seen the catchy marketing slogans and can designs of modern beer brands, but how about this early example of a clever satirical label?
These stoneware 'greybeard' bottles were made in Germany from 1500 to 1700 and were often used to transport wine or beer. Sometimes, they were jokingly referred to as 'Bellarmines' after the Arch-Inquisitor Cardinal Robert Bellarmine.
Bellarmine fiercely opposed Protestantism and encouraged sobriety. Naturally, Protestants in Germany, the Netherlands, and Britain took the opportunity to mock and name their beer bottles after him.
And for good measure, these beer bottles were often smashed after use. With that in mind, it's quite a miracle this example is still in one piece!
Mysteriously, these are also known as 'witch bottles'. Witch bottles were used to deflect spells and curses. To block any witchcraft coming their way, would-be victims created a concoction by adding their hair, nail clippings, or urine to these bottles. Sand, salt, twigs, feathers, ash, and other materials were added, too. Sometimes they even used wine or salt water to 'drown' the spell, or pins to 'impale' it. The witch bottle would then be buried away from their property to keep evil spells and spirits at bay.
Luckily, the bottles in our collection are empty…to the best of our knowledge! So hopefully we don't have any dormant spells, sitting quietly down in the collections store, among the tombstones and trinkets.
And if that leaves you in need of a pint, you could do worse than quaffing a craft beer from one of these magnificent (and incredibly heavy!) silver tankards from our collection: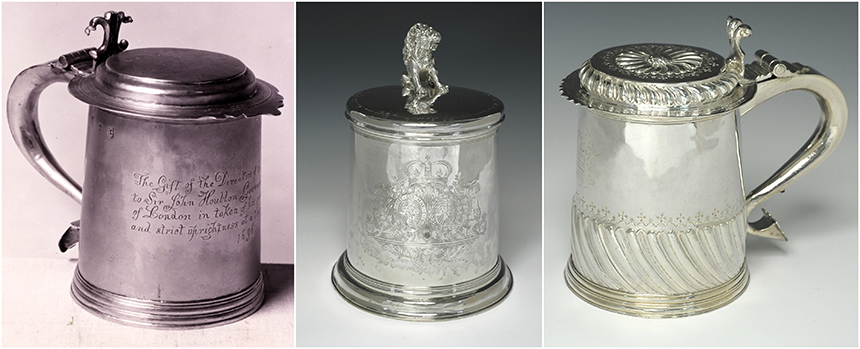 Footnotes
Left to right: The 'Houblon tankard', presented to the Bank of England's first Governor, made by William Gamble, 1695-6 (Museum reference P051); a silver tankard made by George Garthorne 1692-3 (Museum reference P035); and another tankard by Samuel Hood, 1694-95 (P046).
Cheers!