Biography
Term of appointment: 1 July 2013 to 15 March 2020
On 20 December 2019, Andrew Bailey was announced as the new Governor of the Bank of England, effective from 16 March 2020. Mark Carney completed his term on 15 March 2020.
Mark Carney's appointment as Governor was approved by Her Majesty the Queen on 26 November 2012. He joined the Bank on 1 July 2013.
In addition to his duties as Governor of the Bank of England, he served as First Vice-Chair of the European Systemic Risk Board, and remains a member of the Group of Thirty and the Foundation Board of the World Economic Forum.
Mark Carney was born in Fort Smith, Northwest Territories, Canada in 1965. He received a bachelor's degree in Economics from Harvard University in 1988. He went on to receive a master's degree in Economics in 1993 and a doctorate in Economics in 1995, both from Oxford University.
After a thirteen-year career with Goldman Sachs in its London, Tokyo, New York and Toronto offices, Mark Carney was appointed Deputy Governor of the Bank of Canada in August 2003. In November 2004, he left the Bank of Canada to become Senior Associate Deputy Minister of Finance. He held this position until his appointment as Governor of the Bank of Canada on 1 February 2008. Mark Carney served as Governor of the Bank of Canada and Chairman of its Board of Directors until 1 June 2013.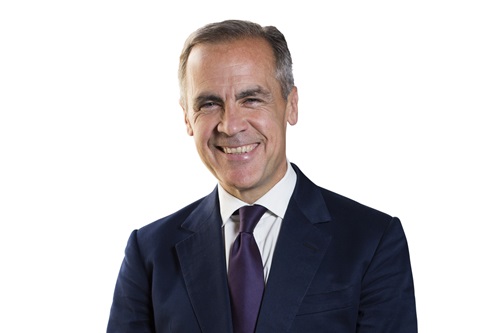 Latest news and publications
This page was last updated 31 January 2023
Give your feedback